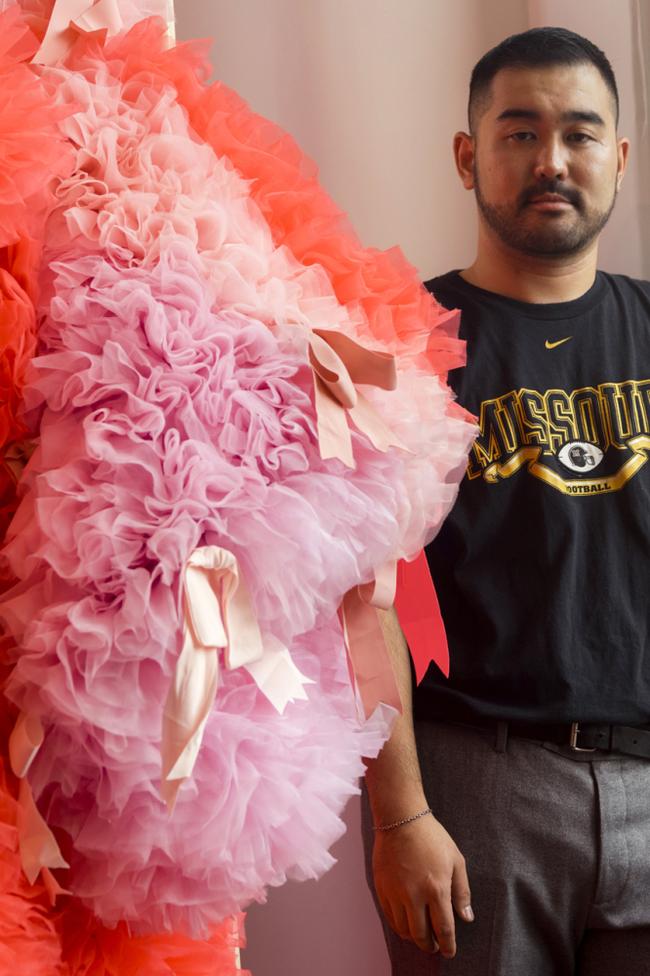 It's difficult to adequately describe the hanger appeal of Tomo Koizumi's dresses. In a far corner of a sparse showroom at Marc Jacobs' headquarters in SoHo, New York, his frothy creations made from Crayola-coloured Japanese organza appear more like sleeping magical creatures than clothes. Which end is up? And how would you try one on without a team of professionals to help?
When Koizumi enters, it seems the gowns can almost sense it. "They come to life and move really well when they're worn," says the 31-year-old, as he inspects his latest collection, each piece created with anywhere from 50 to 200 metres of fabric. "This pink one is my favourite, but it needs to be fixed," the designer adds, explaining that the dress was damaged the day before when a dancing model fell during rehearsal. "Her movement was too big for the dress."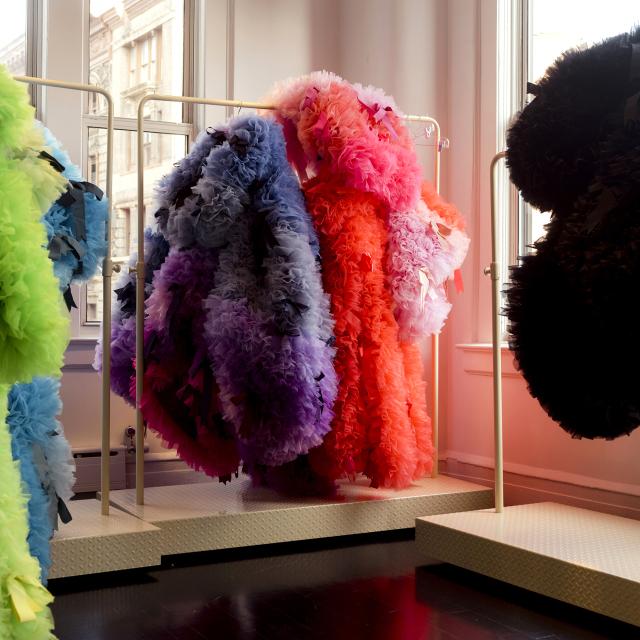 A little help from his friends
It's only a few days before his spring/summer 2020 presentation, and the charming and unassuming Koizumi — dressed in a University of Missouri football T-shirt (a gift from his boyfriend) tucked into wool trousers — is surprisingly levelheaded considering he's prepping for his second show ever. Just last autumn, he was working as a costume designer for Japanese pop stars in Tokyo, as he had been doing for seven years, when stylist Katie Grand and designer Giles Deacon altered his path by sliding into his Instagram DMs.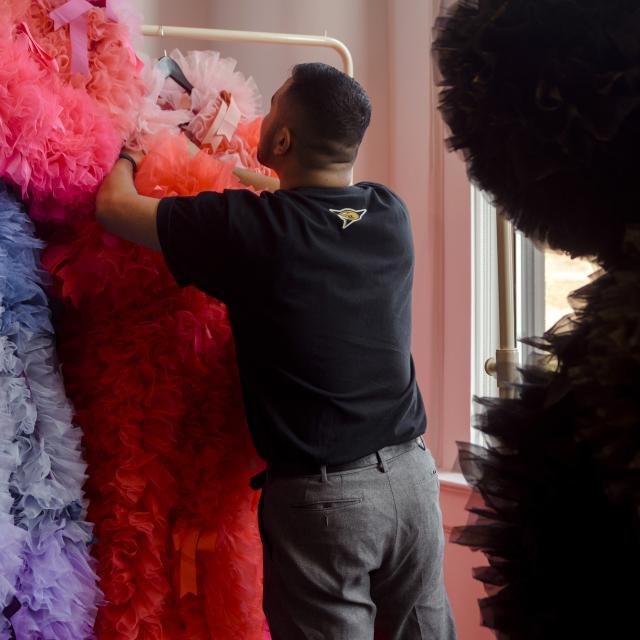 Dazzled by his ruffled creations, Grand assembled a squad of industry veterans — including Marc Jacobs, casting director Anita Bitton (who called upon models such as Bella Hadid, Karen Elson and actress Gwendoline Christie) and beauty giants Pat McGrath and Guido — to help the unknown designer organise a very last-minute New York Fashion Week show. The result was a viral splash; Koizumi's runway debut proved to be a much-needed tonic to NYFW's even-keeled expectations and a solid argument against those who claim that fashion shows have become obsolete.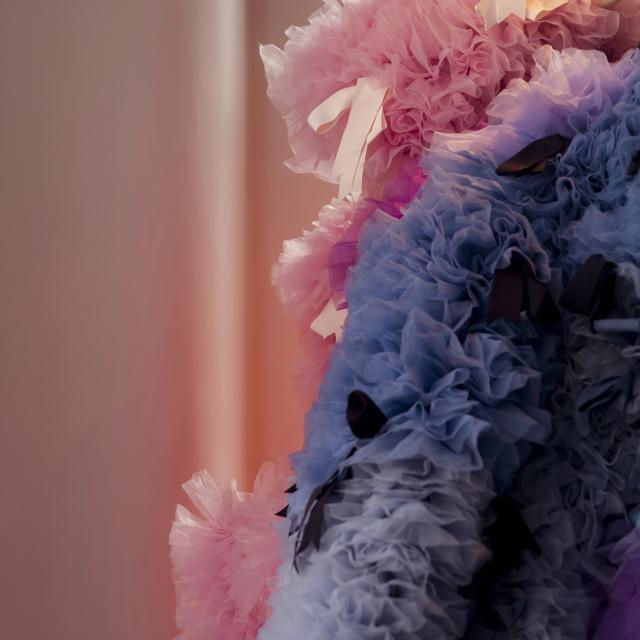 Big dreams, bigger dresses
Needless to say, this season, all eyes are on Koizumi. The self-taught designer says he has no plans to reinvent the radiant ruffles that put him on the map; in fact, with only seven looks compared to last season's 28, his spring/summer 2020 collection allows him to deep-dive into the art of his craft. "I wanted to make even bigger pieces than the last collection," says Koizumi, who first became interested in fashion at 14 years old after discovering John Galliano's work for Christian Dior. He would later study fine art in his hometown of Chiba, about 25 miles southeast of Tokyo.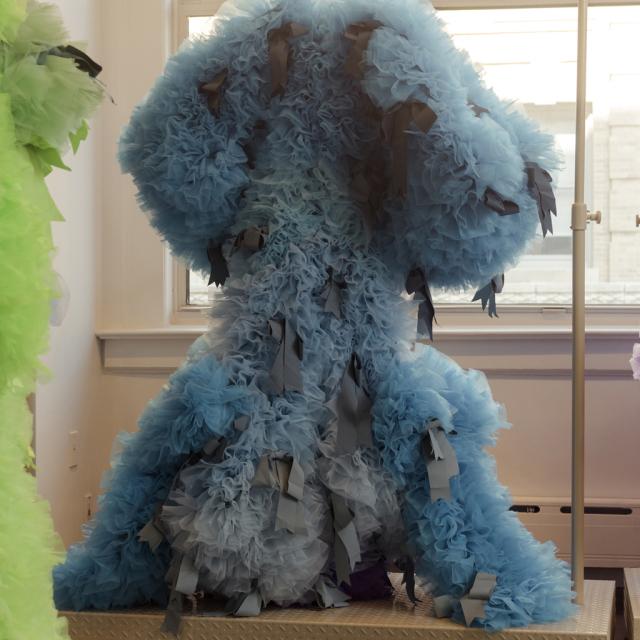 For his latest collection, Koizumi draws inspiration from his homeland, including traditional Japanese Kabuki theatre, robots and manga series Sailor Moon (an inspiration for his debut collection as well), mixed with Rococo period influences. "I also like these particular Japanese dolls that have very exaggerated forms that don't resemble human bodies," he says. "I wanted to try this silhouette on an actual person."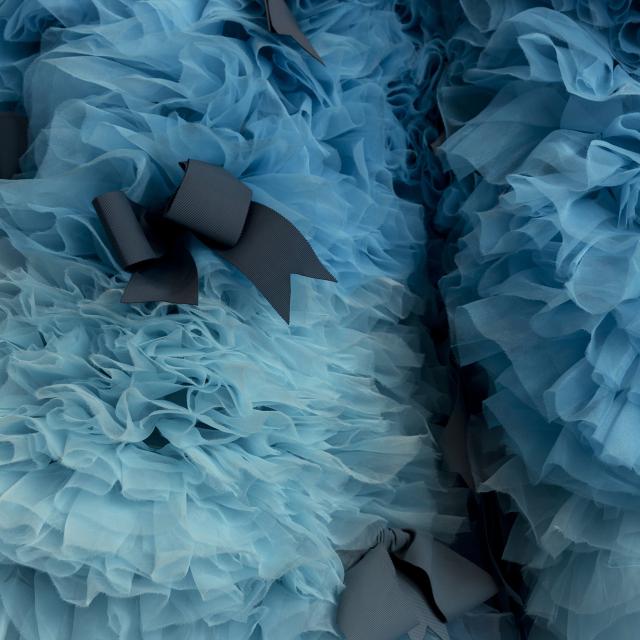 A joyous gift from Koizumi
Fashion and humility rarely go hand and hand, but Koizumi hopes more than anything for his NYFW spring/summer 2020 presentation to pay tribute to those, like Grand, who made his meteoric rise possible. "The big theme behind this new collection is 'a gift from me'. It was a tremendous gift from everyone involved in my last show because they worked for me for free," Koizumi recalls while pointing out the gift-like Shindo bows that adorn certain pieces, one with an almost box-like silhouette. "After that show, I got many great compliments from all over the world. I want to give something joyful to back to them."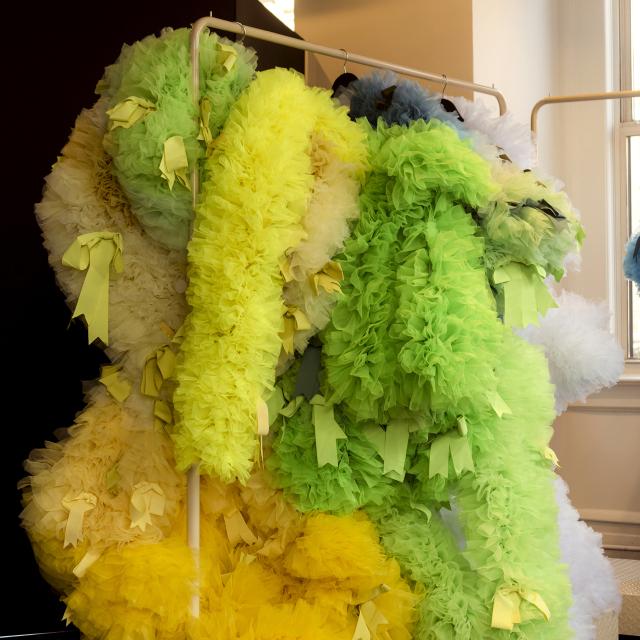 While Koizumi has received undeniable support in building his career, he runs a lean operation in his home studio in Tokyo: just one assistant and a few interns. "I collaborate for the shows and photoshoots, but not when it comes to developing my brand," he says. "I still have to think about that by myself." And despite the global fame his craft has brought him in the past year — including a slew of glowing magazine profiles and a coveted spot at the Metropolitan Museum of Art's 2019 summer exhibition 'Camp: Notes on Fashion' — he has yet to gain the attention of the media or commercial retailers in his own country.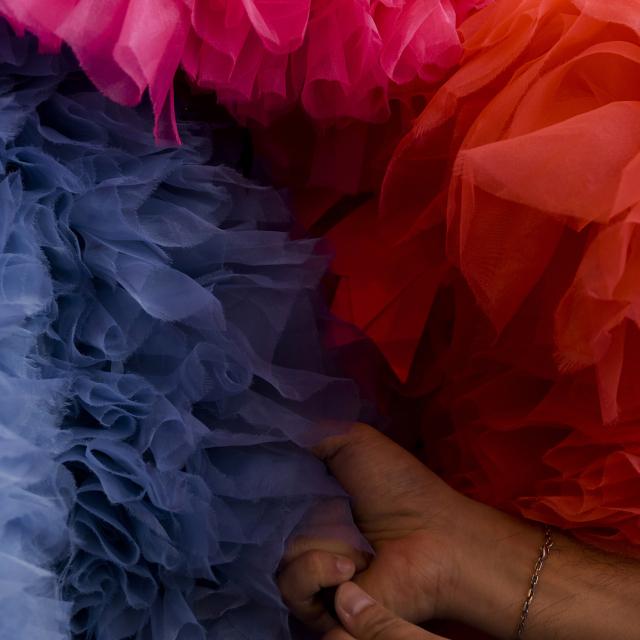 "I feel like I'm half in the fashion industry and half in the entertainment industry," he admits. "Working in the fashion industry means you eventually must think commercially so you can sell something, but I would still like to make something to entertain people. People suggest that I try to be more commercial because I'm hot now. I'm not ready for that. Maybe next year. I don't want to be rushed by something I don't need or care about. Right now."
"My dreams are coming true," Koizumi says, "and I want to follow them."